Aikido is an inspiring and attractive Japanese martial art that focuses on peace in spirit rather than aggression. It's a path of self-awareness and personal growth. Where participants learn to become one with their opponents' energy, transforming conflict into collaboration. Aikido is an exciting route to physical and spiritual development because of its fluid motions and gentle philosophy, which supports inner balance and calmness in addition to self-defense abilities.To learn more about the skills of Aikido feel free to contact us. Our expert trainers are looking forward for you to master this art.

International Aikido Festival
Wilko is the international Aikido Federation chairman. He is the dojo owner of the Aikido Center Amsterdam and the Vriesman Dojo is also technical director of the Dutch Aikikai Foundation, and technical representative of the Dutch Aikikai.
Nasser has been practicing and teaching Aikido for more than 25 years. He started judo at the age of 11. Under the supervision of Wilko Vriesman Shihan ,Nasser Bayram is providing training in Dubai UAE, Netherlands, Japan, France & Germany.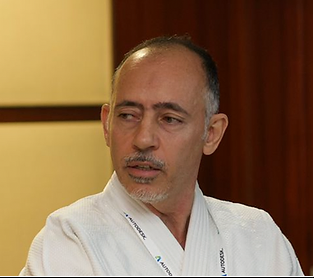 Ahmad has been practicing Aikido for almost 20 years. He is a member of the International Aikido Federation responsible for the Middle East region. Mr Salih holds a 4th dan rank from Aikikai and Shodan in Totama Ryue Iaido.
New students have lots of questions. We want you to feel comfortable to get started. Review our frequently asked questions to find out more.